Easy Home Improvements to Benefit Indoor Air Quality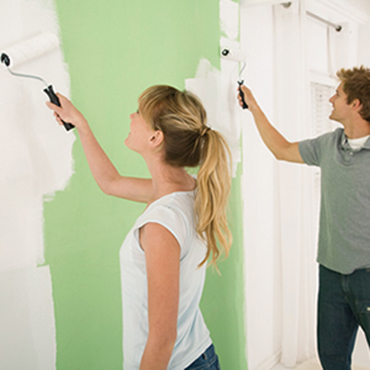 Combat Indoor Air Pollutants With These Easy Tips
(Family Features) What is two to five times more polluted than the air outside? The air inside your home can be. According to the Environmental Protection Agency, people spend up to 90 percent of their time indoors. The result of breathing indoor contaminants, such as smoke, odors and dust, is often runny noses, itchy eyes and headaches.
While asthma and allergy sufferers, children and the elderly are particularly sensitive to indoor air quality, everyone is impacted by it. Fortunately, a few simple and affordable home improvements can go a long way to benefit your home's air.
Skip synthetic fragrances
Despite their fresh scents, air fresheners and laundry products can emit dozens of chemicals. For truly fresh air, look for fragrance-free or natural products and skip aerosol sprays. Keep rooms ventilated by opening windows and add a fern or aloe vera plant to help purify your air.
Use paint that reduces some indoor odors and pollutants
Sherwin-Williams Harmony® Paint helps reduce common indoor odors like those from cooking and smoke. Harmony's new enhanced zero-VOC formula (available in flat and eg-shel) helps promote better indoor air quality by reducing some indoor air pollutants from potential sources like insulation, carpet, cabinets and fabrics.
Clean up dust-grabbing décor
Household dust can trap chemicals and allergens. Some objects are prone to dust, such as rugs, upholstered furniture and infrequently moved accessories. Opt for easy-to-clean or washable items to avoid dust getting trapped in your space.
Dehumidify moist spaces
Moisture can attract dust mites, mildew and mold, so keep your rooms at a safe 30 to 50 percent humidity level. An inexpensive indoor humidity monitor will check your home's levels, and a basic dehumidifier can solve many moisture challenges.
Clean floors regularly
Use a vacuum cleaner that is equipped with a HEPA filter (a high-quality, dense type of filter) and rotating brushes to remove dust and dirt from floors, and vacuum weekly, especially in high-traffic areas. A good vacuum will not blow dust or dirt out in the exhaust. Twice a month, use a microfiber mop on hard floors, skipping any chemical cleaning solutions in favor of warm water or a natural product.
For additional information on enhanced Harmony Paint, visit Sherwin-Williams at http://www.sherwin-williams.com/homeowners.
Photo courtesy of Thinkstock
SOURCE:
Sherwin-Williams